New Buyer Guide
Welcome to our new buyer guide. Here you will find all the tutorials about placing an order on Garberiel, asking for assisstance, and more.
How to choose the warehouse?
We now have 3 warehouses all over the world. 2 warehouses in the United States, and one in China.

For the USA customers, please choose "Ship from USA" as follows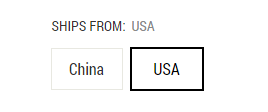 For the customers from other countries, please choose "Ship from China".

Since each order from different warehouse will be separated to count the shipping fee.
We have VIP Discount for each member.
Every time you purchase from us, the system will ran up all of your order records.

Junior Member: All orders above $1000.00, your account will get 5% VIP discount
Senior Member: All orders above $2500, gets 10%,
VIP Member: above $5000, and gets 12%.



The discount is valid even though our website has another promotion. And always valid for any orders.




Therefore, please kindly take note to register an account before ordering.

What are you interested in?
Registering
Placing an order
Paying
Tracking my order
Using a coupon
Contacting support